About Symphony Stables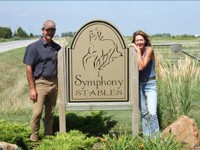 Our mission is to provide a training facility where horse and human can connect, learn and benefit from each other. Through mutual respect we create winning partnerships.
Our training principles take a logical, progressive approach which are geared toward training the body, as well as the mind of the horse.
The "dynamic duo" (as Walt and Gisela have been dubbed by friends and students) have apprenticed with Canadian trainer Chris Irwin, and currently ride with Austrian dressage Master Arthur Kottas Heldenburg formerly of the Spanish riding school in Vienna. They have also trained with world champion reiners as well as  world champions in trail. They have taken the best from the best and put it in a well balanced package. When they combine their individual strengths, their training package can't be beat.
The Mantlers have been holding regular clinics in Wheatley Ontario and have worked clinics in Toronto, Ottawa, Kentucky, Nova Scotia and have drawn students to their clinics in Wheatley from across Canada, USA and as far away as South Africa.
Published Training Articles
We have published numerous training articles in the Ontario based horse publication "The Rider", as well as Canada's leading horse publication "Horse Canada".