Training & Services
Training horses and their riders.
Boarding
At Symphony Stables we offer outdoor / indoor board with daily turnout. Our facilities include a 60' x 120' indoor riding arena, a large outdoor well drained sand ring with two full size Dressage Rings measuring 20m x 60m, and a newly added 20m x 40m, riding trails on 53 acres of land, round pen and a tack shop. Boarding rates vary depending on the needs of your horse and type of training/lesson plan you choose.  Please contact us for rates
Showing
For those that are interested in showing we are active participants in Western Style Dressage Association of Canada  (WSDAC) as well as Saint Clair Western Style Dressage Association of Ontario (SCWSDAO) , AHAEC (Arabian horse association of Eastern Canada), the ORHA (Ontario Reining Horse Association). We specialize in Western Dressage, Dressage, Reining, trail & western pleasure. Trailering to, as well as coaching at these shows is available.
Please contact us for rates as they may pertain to your specific requirements.
Training for Reining
One of the most important things in becoming a successful reiner is learning how to ride well…really well!!
All of the movements expected of our horse are very advanced manoeuvres. It is imperative to learn how to ride by the seat of our pants, literally.  A reining horse is not only guided by the reins on their neck, our seat, legs, back, upper body all come into play and timing is everything.
Be prepared to take the time that it's going to take. Teaching a horse to spin, slide and do lead changes takes some know how and definitely some time and patience. We teach every manoeuvre one step at a time, literally. A spin starts with one cross over step,  then you build on it. The lead change starts with specific suppling exercises and so on. Training takes on a slow progressive approach that is easy for the horse and rider to understand.
Trail Competition
Not only is "Trail" fun, training for trail is also an excellent training process for any horse. It is excellent for suppling the body parts of your horse as well as improving riding skills. Trail helps keep the mind of both the horse and rider engaged and interested.  The trust that is developed between horse and rider is very rewarding.
Symphony has produced several Eastern Canadian Arabian Trail Champs, and have also competed successfully at the national level as well.
Symphony Stables has a permanent 1/2 acre trail course on turf for learning and practicing.
"Spark" Eastern Canadian Arab Trail Champ 2005
"Gem" -Eastern Canadian Arab Trail Champ 2006 & 2008 -Eastern Canadian Breeders Arab Champion Western Pleasure 2008 – Res High Point Champion Arab Western Pleasure Eastern Canada 2008
"Gem" Eastern Canadian Arab Trail Champ 2006
Tess & Cheryll
Starting Horses
Green Horses
Read our Training Series as it Appears in "The Rider" Magazine
Horses have a memory only second to an elephant. Start them out correctly and they will remember the rest of their lives, and the rest of their training will be a great experience. Break them and they will remember that for the rest of their lives as well.
At Symphony Stables we don't break the spirit of the horse, we work with it. With the horse's spirit intact and on our side we create winning partnerships.
By the end of our "Starting Program" the horse/human partnership will be doing the following:
Standing quiet for grooming and picking up feet
Walking quietly in hand
Lunging quietly in proper form
Standing still for mounting
Walking off level headed
Trotting off level headed
Cantering off level headed
Stopping level heading
Bending in both directions at all gaits
The time needed to accomplish the above would depend on the individual horse and their past training / experiences. For more info and pricing with regard to our "Starting Program" please contact us.
Retraining Horses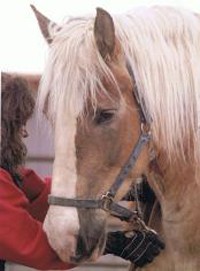 Probably one of the most challenging aspects of horse training is that of retraining horses that have developed dangerous/bad habits. In order to help a horse and handler work through the problems, a lot of time, patience, understanding and knowledge is required.
The good news is that a lot of the so called problem horses are really some of the most intelligent horses with the most potential. When we finally get the horses to realize that we know their language and how to use it, they will often come around and become great partners. Horses will forgive and develop tolerance if we are willing to handle them properly.
One of the most important steps in retraining a horse is to understand what may have been causing the unwanted behaviour. In knowing the cause we can help the owner remedy the situation through retraining and then develop a level of forgiveness in the horse.
Our "Retraining Program" will help you with some of the following problems:
Not willing to stand still in the cross ties
Not willing to pick up feet
Not able to lead safely
Pushiness
Not able to lunge
Does not want to take the bit
Will not stand still for mounting
Not willing to go level headed under saddle
Not willing to bend under saddle
Not willing to stop, or not willing to go
Bucking
Rearing
Biting, kicking
The time required to work with a horse could be difficult to determine and will depend on the horse and the circumstances related to the issue.
Please contact us for pricing and information with regards to working with the issues mentioned above.



Personal Development Clinic
Freedom Clinic
We have had numerous requests from our students/friends/clientele to host a clinic in which we allow the horses to teach us about ourselves. There are so many "unexplained" behaviours, reactions, reflexes which occur in our human psyche as we work with the horses. What is this phenomenon and how can we grow and connect with our inner selves during this process?
The layers of dust we allow to accumulate on the unanswered questions we have about ourselves start to blow away as we begin our work with the horses. Can we become so aware of ourselves that we allow ourselves to remove layer after layer of the "unknown" and uncover who we really are? In this journey with the horse, we learn to face the fears that prevent us from achieving what we are intended to achieve.
In this two day clinic we will be acting as a team, each person allowing themselves to interact with horse and human alike. The support and understanding in this type of group environment is mind boggling, add to the equation the assistance of the equine and the result is a learning experience that cannot be topped. Our "classroom" will be as close to nature as we can get, weather permitting we will be outdoors, the horses always close by. Discussions will be informal and relaxed, for those needing to move around, there will be plenty of opportunity to get up and mingle with the horses during conversations with fellow humans.
The only prerequisite to this course is that you have already familiarized yourself with Symphony Stables and have a bit of an understanding as to how we interact with the equine on our farm. This clinic is intended to be an intimate setting with familiar surroundings so as to create a safe environment to allow us to chart unfamiliar territory within ourselves.
Riding is not required, will however be permitted. Many activities will be performed from the ground, it will be up to each individual as to which level they take their skills. There will be no expectations, no limitations.
Cost: $400 including HST – 50% deposit required to hold your spot
Price includes Lunch and Dinner on Sat, and Lunch on Sunday
Price also includes stabling, and use of one our horses if you do not own one
At Symphony Stables we Train Horse and Rider From Start to Finish!