Our Horses
We invite you to meet our horses. On our farm we have everything from a mustang of the Nevada wilderness to an off the track retired Thoroughbred race horse, numerous beautiful Arabian mares, an amazing Arabian stallion, two incredibly well built and well-natured Quarter Horse mares, and two Quarter Horse stud colts with very sweet dispositions.
Our horses are at times available as lesson horses for students that don't own a horse and are also available for people who come from out of town to our clinics and are not able to bring horses.
In Addition to Being Trained These Great Horses Are Here to Help Train Us and Our Students

Carlo – Mustang from Nevada:
In the winter of 2005 Carlo was taken from the wilderness in Nevada. He was 12 years old before he made his first human contact. He's made a special contact with Gis and in the summer of 2007 she was able to halter, lunge and groom him, quite an accomplishment for both of them.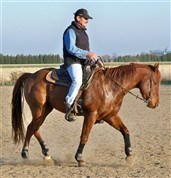 Libera-Chi "Cha Chi" – Quarter Horse:
Cha Chi was born in May 2007. His Dam (4 Ella) was purchased in foal from Haythorn Ranch and Cattle Co. in Nebraska. With this gelding's great mind and athletic body he is turning out to be a great reining horse. His breeding goes back to some of the Quarter Horse greats like Doc O'lena, Boco Bueno, The Continental, My Beaver, and Eddie.
The Bronz "Fonzi" – Arab Gelding:
Fonzi was born in 2006. He was purchased from Rideaufield Farms near Ottawa. He has beautiful movement, a soft eye and is eager to please. Fonzi is a big boy, standing at 15.2hh. He is short coupled, has a super sweet face with the gorgeous neck we love to see in the Arabian breed. He comes from a long line of champions, his sire, Pomerol, was Champion Stallion every time out. His grand sire Padron was both US and Canadian National Champion.
His dam Xceptshahnly Maid, is an Xceptshan daughter out of a Three-B-Rasheik daughter. We feel this young fellow holds a lot of promise.
1st red ribbon in dressage 2010 At the age of 4
Sport Horse in Hand Champion 2010 Region 18 – Eastern Canada
Four Ella "Ella"- Quarter Horse Mare:
Four "Ella" is Cha Chi's Dam, purchased from Haythorn Ranch and Cattle Co. in Nebraska. She is a very sweet, gentle mare, and comes from great blood lines, going back to Poco Bueno, Hug Bars, Doc O'lena, Gin Echols. Great mind, solid body, and a willing spirit is what she is all about, this is exactly what we want for our breeding program.
Cha Chi & Ella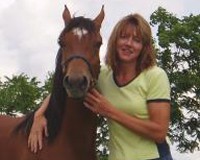 China RF – Arab Mare:
This is Gisela's little sweetheart. China was born in April 2004; she was the first horse Symphony Stables brought home from Rideaufield Farms. This little beauty was sired by Amarath Bakal, who himself was out of Bask & Sanacht. Her dam NV Masira was out of Bey Shah & Shantu.
Gis has started China under saddle and has found her a treat to work with. With eyes like pools of very deep water, a very willing attitude and a marvellous sense of humour, China keeps Gis laughing during every training session, she is a dream come true. This little lady will always have a special place on our farm.
Four Yellow "Tess" – Quarter Horse Mare:
Tess was born in June 2004. This beautiful Palomino was purchased from Haythorn Ranch and Cattle Co. in Nebraska. She is another very easy mare to be around, super friendly, very laid back, yet when it's time to get to work, she's game. At 14.3 and a very solid frame with a strong hind end, we are sure she will produce many beautiful foals for reining her bloodlines go back to Colonel Freckles, Snickelfritz Chex, War Drift, and My Beaver. She has been started under saddle and is doing great. We hope to add some more colour to our herd with this young lady in the future.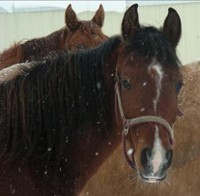 Aristabask OC "Rio" – Arab Mare:
Rio was born in June 2000. Talk about solid! This little mare is built close to the ground with plenty of power in her hind end with a very solid short coupled back. She has a real soft eye and a heart as big as her solid body. She has been deemed our "therapeutic horse", she has willingly participated in several Equine Assisted Personal Development (EAPD) sessions. The effect she has on people, the trust she has been showing to those that really require it of her has been astonishing.
First Kiss–2008 Thoroughbred/Percheron Sporthorse Mare
It was First Kiss's free flowing graceful movement that caught our eye, her energetic personality clinched the deal. First Kiss has been with Symphony since she was 2.5, her training started when she turned 3. Training has progressed slowly and steadily, with her extremely long legs and desire for forward, we spent quite a bit of time allowing her to find her feet. This has now paid off and First Kiss is striding with confidence in the direction of being a solid dressage horse and in our opinion, the sky is the limit for this girl. Standing at just shy of 16.3, First Kiss has power to be an athlete to the max with the softness to make the journey extremely pleasurable. First Kiss listens, asks and then gives, what more can we ask for? This mare is a dream come true.



Jannelle-2011 Hannoverian Sporthorse Mare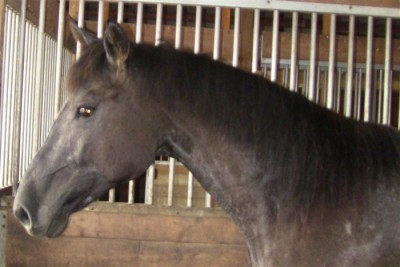 We saw pictures of Janelle as a very young filly, then more pictures of her as a carefree 4/5 month old running beside her mother–what a beautiful girl. Jannelle carries her gorgeous head on a naturally arched strong graceful neck. Her long legs move with such athletic ease that she doesn't seem to be exerting any effort what so ever. Janelle is already showing extreme balance and confidence, the ground work has been started and she accepted all that we asked of her with a curious but accepting manner. It sometimes seems that Janelle has already done this work before, she is not surprised by anything new that we add to her workout, if we did not know her since she was a weanling, we would say that someone had already introduced her to bridle, bit, saddle, lunge line etc. It will be interesting next year when we start the riding work to see if she accepts a rider as easily as she has accepted all her training thus far. As a 2 year old Janelle stands at 15.3, we anticipate her reaching very close to 17hh. Janelle has great potential as a dressage horse and if we so desired would make a top prospect in the jumping world.
Jewel-2011 Hannoverian Sporthorse Mare 
Jewel is a half sister to Janelle and shows a lot of the same characteristics-strong, athletic, willing and very sweet. Jewel's eyes show you all you need to know; soft, curious and so gentle. Jewels formal training has not yet begun though she is already showing a desire to learn. She watches very closely when we are working with any of the other horses, it is as if she is learning through osmosis. Jewel is extremely light on her feet and carries her body with pride. When I ask her of anything, she moves to my every request, giving me the answer I am looking for, it will be such a pleasure to start working with her this fall to see her build on her already natural talent. Jewel has been keeping up in her growth, inch for inch with her half sister and also stands at 15.3, we believe she will finish at 16.3 or maybe even 17hh. With Jewel's easy grace, proud movement and willing nature we see her as being able to accomplish anything, we will be training her for dressage, no limitations for this girl!
Horses for Sale
Some of our beautiful horses are for sale. Click the link for more information.